Search
Property detail & price proposal
Reserve
Thank you
Marine Surf (MS03)
Modern Studio in Central Waikiki with Free Parking, Mountain and Ocean views!
Studio for 3 guests (max. 3)
364 Seaside Avenue, Honolulu
Contact a rental agent
Premium Vacation Rentals
Lei Hawaii Real Estate Company
or use Contact Us form
Video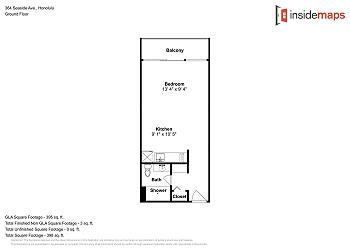 Description
You will stay cheaper and longer in the Center of Waikiki Renovated Ocean View Condo(MS03). Then you will have the best vacation ever!!
Compare the room rate with other central Waikiki hotels. Ours are less than a half of the price. Plus a full kitchen and a free parking!!
The room is larger and cooler!!
As you arrive into a bright studio, with sunlight beaming through the floor to ceiling windows.
It doesn't take long to notice how the design compliments the view to create an all around unique condo.
The newly renovated kitchenette is best suited for after beach snacks and early morning Kona coffee, while the premium location lends itself to easy restaurant access.
And after a full day of playing in the waves and exploring Waikiki's urban grid, you can wind down on the lanai, or melt into the comfort of your very own queen size bed.
The Marine Surf is a great home away from home, and for such an affordable price, you truly can't beat it.
Marine Surf is centrally located in Waikiki, with a great variety of places nearly at its doorsteps.
Just a few steps away from the building is a large concentration of shopping centers, such as Waikiki Shopping Plaza, BeachWalk, and the International Marketplace. As well as an ever-evolving scene of cafes, happy hours, international cuisine, and late-night bars to relax at with an exotic island refreshment.
There is truly no end to the stores to wander through, unique dining options, and entertainment such as Hula lessons or cultural shows closeby.
But, if you prefer to explore more of Waikiki or even the greater Oahu area, there are several transportation options.
There is a bus stop located 3 minutes from the Marine Surf building, which can take you to new surfing, snorkeling, shopping or sightseeing locations.
There is also a Biki rental bike stand nearby, which can be used to explore Waikiki.
Additionally, you will definitely enjoy all of the perks of the Marine Surf condo itself, which offers a nice pool. All at an affordable price compared to similar hotels in central Waikiki.

View: Partial Ocean and Partial Mountain from the Balcony
Maximum Number of Guests: 3
Minimum Length of Stay: 2 Nights
Parking: Yes (Included in the fee. Basement parking has a very low height limit of 6'. Entrance for the parking is on Kuhio ave.)
Room Type: Studio
Number of Bathroom: 1
Type of Property: Condominium
Check in and out Style: Self (Guests must check in with the resident manager between 3pm and 8pm. The gate will close at night, and the keys are inside of the gate. Please be aware of this.)
Address: 364 Seaside Ave #2103, Honolulu, HI 96815, USA

*Please read all of our terms and conditions before making a reservation. In the case that you do not understand our terms and conditions, or do not want to purchase the CSA damage protection fee or the deposit waiver, please do not reserve a vacation rental with Lei Hawaii Realty Inc.
*Persons over the age of 21 must make the vacation rental reservations, and are required to be present during the stay.
*All rentals between December 22 and January 2 must be reserved for a minimum of 4 nights, unless there is already a gap of less than 4 nights.
*No pets are allowed. As an allergy precaution, if any service animals will be accompanying you, we will need to be notified beforehand. If you fail to notify us, your reservation will be cancelled. If we become aware of an unauthorized pet after your stay, additional cleaning fees will be charged as compensation.
*Construction and maintenance on the property are a possibility. If this is the case during your reservation, access to the pool, landlady, and other amenities may be limited or restricted. Lei Hawaii Realty Inc. is not responsible for and will not compensate for these circumstances.
Address

364 Seaside Avenue, Honolulu

Parking

Not all condos include free parking. Please see description for details.

Floor

0

Elevator

Yes
Bathroom

1

Area

392 ft2

Beds

1 King, 1 Sleeper
Reviews
recommended by
Enjoy Vacation Rentals
All about Vacation Rentals
Reviews for this property
Great Place

Amy H. from La Mesa US, 26. July 2022

Stayed for 5 days in July, 2022

This little condo was great! Nice and clean and easily accessible to shopping, beaches, and restaurants.

Great spot

Lisa F. from Huntington Beach US, 01. March 2022

Stayed for 4 days in February, 2022

Easy check in. Clean and central. Walk to restaurants and sites. Had a great experience!

Well kept studio overlooking DT Waikiki and partial beach views

Redmond United States, 30. December 2021

Stayed for 6 days in December, 2021

Studio is situated well in central Waikiki close to a lot of attractions. Parking spot was super convenient especially since parking can be challenging in downtown. Protip: get a sedan or compact vehicle. The bidet, kitchen amenities and space made our stay so much more enjoyable!

Perfect home away from home

Merry R. from Portland United States, 15. December 2021

Stayed for 6 days in December, 2021

Location is ideal, close to everything. Unit is clean and well maintained, I bought household things but owner already supplied. All doors and elevator locked with key fob so very secure, had tv issues so called number given and man quickly arrived. Pool is adequate. Great noodle place just down the street. Have made many trips to Honolulu but first time in apartment, I shall definitely return.

Waikiki in September

Gerald H. from Vancouver US, 24. September 2021

Stayed for 6 days in September, 2021

Great location, safe, nice accommodations and the bidet was an added bonus!

Simple yet awesome

Austin US, 06. September 2021

Stayed for 6 days in August, 2021

Awesome location, right in the middle of all the shops and just a few minute walk to the beach. Get a small rental car because it's the corner parking with a slanted ceiling, but the parking is included so not bad! Ac unit leaks water that needs to be emptied everyday but apparently not everyone in Hawaii has ac so this was also not too big of a deal. Rather have it than not. Overall had a great time here, will be back again!

Marine Surf

New Castle US, 12. August 2021

Stayed for 2 days in August, 2021

We loved the apartment and all the cute touches. It was perfect for our stay! The parking spot was a little small and it took a little to look up the email with the check in instructions but the security guard on duty was extremely helpful in helping us figure out our stall and where to park.

Great time in Honolulu

Rachel Q. from Canton US, 16. June 2021

Stayed for 4 days in June, 2021

This was a nice, clean room in a great location. I walked to everything—beach, restaurants, shopping. The balcony has a view of mountains and ocean. There was a perfect running route along the canal. I had everything I needed and I'd stay here again.

Great Condo in Waikiki

Lodi United States, 27. October 2020

Stayed for 30 days in September, 2020

This was such a great little condo. Nice view and great location. Walking distance to most things close by, and the free parking was a great benefit!

Clean, comfy, great price, wonderful location, free parking, 5/5

Jaren W. from Renton US, 23. March 2020

Stayed for 4 days in March, 2020

Room was clean. Bed very comfy. Kitchen was nicely stocked with essentials. Bidet in bathroom was a nice plus. Free parking was awesome but remember to rent a small or midsize sedan only. Low basement ceiling. Easy checkin, checkout, via detailed instructions. Only issue was door keys---they were very hard to use. Great place to stay. I believe Marine Surf is the best in Waikiki in terms of value and quality since there is free parking, no extra resort fee, no hidden fee. Damage refund was returned promptly in a few days. Good communication with management team. Night crowd a bit lively but it was not unpleasant. Def a fun area to stay, close to Royal Grove, stores, shops, nightlife, beach. Will always return here.

Comfortable place

Bob M. from Cottonwood Heights US, 02. February 2020

Stayed for 14 days in January, 2020

The realty company was easy to work with. The location is great.

Waikiki

John F. from Irvine US, 11. November 2019

Stayed for 17 days in October, 2019

Been to Hawaii 10 times will definitely stay here again

Great location

ZAPOPAN MX, 02. November 2019

Stayed for 4 days in October, 2019

Great location, though noisy. Clean condo.

Pre Cruise Stay

Irvine US, 01. October 2019

Stayed for 3 days in September, 2019

Clean,comfortable, near good food, McDonalds and ABC store.

Easy drive to UH Manoa

Kristin J J. from Walnut Creek US, 28. August 2019

Stayed for 8 days in August, 2019

I stayed at this condo while helping my daughter move onto the UH Manoa campus. We were driving a lot to get her supplies, so the easy parking was great. It was nice to have a Starbucks across the street and lots of eating options in walking distance.

First Class

Christopher b. from flinders AU, 25. August 2019

Stayed for 5 days in August, 2019

Check in Check out - Seamless: Just follow the instructions.
Card for laundry very useful and easy to use - so much better than feeding in endless quarters.
Property somewhat better than the photos. Very clean and comfortable. Well laid out, and renovations make it bright and cheerful
Location is superb...5th time in Waikiki this location better than anywhere else have stayed, easy to get around with the (very good public transport, and walking to all parts of Waikiki)
One niggling thing - very low hanging lights - ok once you get used to it.
Extremely hot weather spell, the aircon dealt with it admirably.
Would certainly come back next time in Waikiki

Great location in the heart of Waikiki

Fort St John CN, 17. February 2019

Stayed for 7 days in January, 2019

We loved the convenient central location, very comfortable bed and updated bathroom (the bidet toilet, excellent blow dryer with diffuser and large drawers for storage). We also appreciated the slippers provided.

The kitchen was well equipped BUT only had one small (dull) paring knife - no serrated knife or large knife to cut bread or pineapple. There also was no kitchen towel provided so we had to dry dishes with paper towel.

The unit was reasonably clean apart from very dusty countertops, inside drawers and heavy dust on large light fixtures above table. The blanket on the bed was noticeably soiled and we covered it with the extra sheet provided as we did not want to touch it.

We were very surprised and disappointed to find that although it stated that towels were provided, this did NOT include beach towels - this should be a staple in any rental as having to pack beach towels would pretty much fill half your suitcase.

It would've been nice to be made aware that if you arrive late the door to lobby is locked and you must ring for security. It is important to note that in the info book provided in room, management states "We do not provide customer service" and that you will be charged a fee if you call them.

All in all we would consider staying here again as we know now what to expect.

Precise property address:
364 Seaside Avenue
Honolulu
None blocks from ---
Check in / out
Check in time
Check in after - 3:00 PM (- )
Check out time
Check out by 10:00 AM (- )
Amenities
Amenities
Amenities
List of amenities in this specific property
List of amenities in this specific property
Amenity

combination tub/shower, king, sleep sofa /futon, toilet

Arrival day

flexible

Entertainment

Television

General amenity

Air Conditioning, Elevator, Hair Dryer, Internet, Linens Provided, Parking, Towels Provided

Kitchen

Dishes & Utensils, Kitchen, Microwave, Pantry Items, Refrigerator, Stove, Toaster

Leisure activities

walking

Location type

Ocean View
Outside

Lanai / Gazebo

Pool spa

Private Pool

Room subtype

studio

Safety

Emergency phone number: Fire, Emergency phone number: Medical, Emergency phone number: Police, Smoke detectors

Sports and adventure activities

cycling, golf, scuba diving or snorkeling, snorkeling, surfing, swimming

Suitability

children welcome, non smoking only, pets not allowed

Suitability checkbox

Long-term Renters Welcome, Minimum Age Limit for Renters

Theme

Budget, Family, Romantic, Sports & Activities, Tourist Attractions
Similar properties:
Other properties you might be interested in.
Close Match:

Marine Surf (MS08) matches Bathrooms (1.0), Bedrooms (0.0), Minimum Rental Periods (Nights) (2), Location (Waikiki Center), Condominium Name (Marine Surf Waikiki)

does not match Building, Accommodates

Studio - for 3 guests (max. 3)

Price per night from $148 to $495 USD Plus taxes and fees.

Renovated classy studio with full kitchen, free parking, panoramic windows, balcony and 1 king size bed with great location to the beach and main Waikiki attractions.

Close Match:

Marine Surf (MS02) matches Bathrooms (1.0), Bedrooms (0.0), Minimum Rental Periods (Nights) (2), Location (Waikiki Center), Condominium Name (Marine Surf Waikiki)

does not match Building, Accommodates

Studio - for 3 guests (max. 3)

Price per night from $156 to $515 USD Plus taxes and fees.

Tropical studio with free parking, a kitchenette, a king size bed and a sofa. Balcony and top to down windows are not missing and open for you a breathtaking city and ocean view. Located conveniently close to the beach and main attractions.

Close Match:

Marine Surf (PH#2) matches Minimum Rental Periods (Nights) (2), Location (Waikiki Center), Condominium Name (Marine Surf Waikiki)

does not match Bathrooms (1.0), Bedrooms (0.0), Building, Accommodates

1.5 Bedrooms - for 5 guests (max. 5)

Price per night from $365 to $1,163 USD Plus taxes and fees.

Modern light 21st floor 1 bedroom Penthouse with free parking, 2 bathrooms, full spacious kitchen and 2 balconies with a fantastic city view and partially ocean and mountains will make you fall in love with Hawaii.